Mexico City, DF, Mexico - August 27, 2003
Chapter 12 - Living in Durango
I arrived back in Durango from Guadalajara and planned to spend a few weeks there, sharing my time with Helena and her family and taking a vacation from my trip. Helena was preparing her trip to Taizé in France and as part of these preparations we and her sister Adriana went to Villa Hidalgo southwest of Aguascalientes to buy new clothes. Villa Hidalgo is a major shopping area for clothing. People arrive here by the busload to take advantage of the low prices and huge selection.
We left Durango and went straight to Villa Hidalgo, stopping briefly to check out the Sierra de Organos, a small mountain range with strange rock formations, somewhat reminiscent of Bryce Canyon in Utah, USA. We stayed one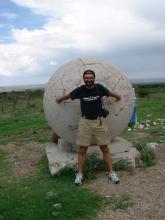 Nelson at the tropic of Cancer with one foot north and one foot south.

night in Villa Hidalgo and spend a whole day shopping for clothes. Then we left and went to Aguascalientes, where it was raining torrentially. We stayed in a hotel in the centre of the city, where we later in the evening ran into a bunch of Helena's friends. This was quite a happy coincidence, as Helena was trying to locate them unsuccessfully by phone in this city. We all joined together in exploring the city centre at night and eating a late dinner.

Later in Durango, we went to a graduation party of one of Helena's cousins, where of course live music and dancing played an important part. Both Helena and I love to dance, but I definitely need to practice more. We also went to another party, this time the 15th birthday party of Marlene, Helena's cousin (yes, Helena has a big family. Just like me :) Here in Mexico, the 15th birthday party is a big event for young girls. Marlene dressed up in a beautiful dress and it looked to me almost like a wedding dress. First we went to church for a ceremony and then we all joined the party afterwards. This birthday party is like a formal transition from a joung girl to a young woman. There was a lot of music and dancing at the party, including a real Mariachi band. It was a lot of fun.

During the month of July, Durango hosts its annual fiesta and fair. The kickoff seems to be a parade through town, attended by thousands of people. For those
Children on horses in traditional dresses during the parade at the annual fiesta in Durango

in the USA and Canada, this parade bears resemblance to the Thanksgiving parade, though here there are a lot of groups from other parts of the country. The fair itself is staged at the local fairground. There are numerous vendors of clothing, sunglasses, shoes, food and many more items. Of course, there
Nelson is driving a different kind of vehicle at the fair in Durango

are also the obligatory rides. I went on the one I always go since I was a child. My english is failing me, so I'll just point to the picture where I'm driving a car on the ride. What makes this fair different from the ones I was used to in Germany, Portugal or Canada is the mexican charreada, which is a mexican version of the rodeo. A charro is a mexican cowboy and they perform a number of tricks with young bulls or horses while mounted on a horse. The tricks with the animals don't hold much appeal to me, but swinging a lasso in circles around a horse is actually beautiful.
A charro (mexican cowboy) is playing with the lasso around his horse
Eventually, it was time for me to leave. Time to return to my trip and continue south. I was quite sad to leave Helena and her family. I thought I wouldn't see them for at least 3 months.
Helena is showing off her motorcycle skills

Well, I was about to prove myself wrong. After leaving Durango, I spent one night in the mining town of Sombrerete, which doesn't look very appealing from the road, but has actually a bit of charm. Like Durango, Sombrerete is located on the old road Camino Real, which went from Santa Fe in present day New Mexico to Mexico City. A hundred and fifty years ago, Mexico included the territory of California, Arizona, New Mexico and Texas. Today, it is still a big country and a very beautiful one, as I have the privilege to experience when I see the countryside or the numerous cities and small towns.

After Sombrerete, I continued south with the intention of getting to the town of San Luis Potosí. At noon, I passed Zacatecas and stopped briefly to eat something at a gas station. Then I went nonstop to San Luis Potosí and about 10km before the city, I stopped to eat and when I got off my bike, my heart stopped as I saw that the aluminum lid on the left sidecase was missing. Amazingly, nothing fell out during the last 170km without the lid. How did I know where the lid disappeared? It was an instant suspicion, because I remembered opening the case and placing the lid on the back of the bike, but I didn't remember closing the sidecase. I immediately decided to turn back and search for the lid. Without it, the trip was not feasible. I rode back to Zacatecas, constantly scanning the side of the road for anything shiny without success. I had avoided most of the rain before, but now ran into three storms.

I arrived at the gas station in Zacatecas soaked, about 5 hours after I had passed there originally. I looked for the lid and started asking anyone who worked there. Noone saw anything, with the exception of a little boy, who had talked to me before. He had seen a truck driver pick up something from the road just minutes after I had left. Reality sank in and I could kiss the lid goodbye. The next thing I needed to do was to consider my options and the best I could think of was to return to Durango, order a new lid from Touratech in Germany and wait for its arrival. This had the advantage of returning to see Helena and her family again and of saving accomodation costs while I waited for the lid. I couldn't wait to see Helena's expression of surprise when she would see me again so soon after I had left. I knew that it would be of no use to call, as Helena had left on a bus for the US border at Matamoros to request a renewal of her US visa. Thus I would actually arrive in Durango before she would return from Matamoros.

Well, I had been back in Durango for a day, I had ordered a new aluminum lid from Touratech over the internet, when Helena arrived back from Matamoros. She was so exhausted that she didn't associate the bike outside with me having returned to Durango. Maybe it was all the mud and not seeing the sidebags, which I had removed. When Helena saw me, she was happily surprised and had to step outside again to see the bike. So, there I was in Durango for the third time.

During my third stay in Durango I did do a little bit of sightseeing again, either with Helena's sister Adriana or on my own, as Helena was very busy getting her things ready to go to France. We visited the waterfalls at El Saltito again. We had been here before in
The waterfall at El Saltito with a lot more water than during the previous time I was there

June and there was just a little trickle of water then. This time, with all the rain that had fallen in the last two months, the rivers and lakes were swollen and the waterfall at El Saltito was respectful. There was another waterfall I visited at El Salto, about 100km from Durango. Though there are supposed to be two waterfalls, I only managed to find one at the tiny village of Mil Diez, about 2km from El Salto on a bumpy road just at the exit of town on the road to Mazatlan.
A red Tuna (prickly pear) growing on a Nopal cactus. This is my favourite fruit in Mexico
Two months ago, we could also see many nopal cactuses with their unripe tuna (prickly pears) fruits all over the countryside. This time, many had ripened and the fruits had turned from green to yellow and red. Adriana and I picked a few tunas, and I can say it's a prickly business. Basically, we nudged the fruits off the cactuses using a stick or stones. Then we would pick them up from the ground, being extremely careful only to handle the lower and upper sides. Despite all the care, Adriana had quite a few needles stuck in her hands. The best method to remove them is using chewing gum and sticking it to your hands in order to remove the needles.
The high plains at El Salto blossoming in beautiful bright yellow
Helena's older sister, Minerva and her husband Miguel are part of a catholic organization called Encuentro de Novios, which is more or less Meeting of Couples, though Novio can mean boyfriend or groom in spanish. Anyhow, they organize weekend events, where couples, who are dating seriously (i.e. thinking eventually about marriage) get together and the purpose is for each couple to learn more about themselves, their relationship and to provide tools to aid them in the future. In a way, it's like a crashcourse in marriage.
By coincidence, one event would take place during the August 9 weekend and we would both be in Durango, so Helena and I agreed we should go. The weekend takes place in a small and modern convent right in Durango. There were nine couples. Obviously, the men and women sleep in separate quarters. You're supposed to be isolated from the outside world, so you don't get distracted and can concentrate on the work ahead. And believe me, it's exhausting work. Each day, someone would wake us up (I think it was 6:30am), because no watches or alarm clocks are allowed.
During the day, we would all gather in a room to hear about a specific topic related to marriage or relationships. To address the topic, one married couple, and there were three during this weekend to help us, talks about their experience. Then there are a few questions which we had to anwser from our point of view, related to our relationship. The objective is to find out how well we know ourselves, our partner and our relationship.
Of course, all the talking was in spanish and I had no real problems understanding everything, though expressing myself in spanish is a different story. By the end of the event, we left a bit wiser and I was positively surprised. This kind of event also exists in other countries, but I had never heard about it until I met Helena.
Eventually, both of us had to leave Durango. Helena left on August 15 for Paris and from there to Taizé in France. It was a very sad day for me. Until now, I was the one that had left twice and I hadn't experienced the opposite. On this same day, I received the aluminum lid and could now also continue my trip. I left a few days later with the intention to get to Mexico City as soon as possible. I was about to learn the hard way that plans can change unexpectately.